Since 2013, beacon technology has been making waves in the ad tech community. What started out as a solution in search of a problem has quickly evolved to be a high-impact, high-ROI marketing channel. Beacon technology was used last summer at Wimbledon, providing tournament attendees personalized directions to the event as they got off the railway or tube station. Schlafly Beer, a Missouri-based craft brewery, have beacons on beer taps that notify users of their mobile app about specials when they walk into the brewery. The Cleveland Cavaliers use beacons to provide information to fans depending on where they are in the Quicken Loans Arena - e.g., a message from the team owner as fans entered the arena, promotions and giveaways to attendees, and educational content as fans pass points of interest. Adobe is using beacon technology in their Smart Bag product line. In fact, according to Boston Retail Partners, over the next three years, 38% of companies will be add beacon technology to their marketing technology stack.
Cool! So what is beacon technology?
Beacons are small devices fixed to a location that can push messages to mobile devices within a certain distance. Mobile device users must opt-in to receive these messages, usually by downloading a branded app to their mobile devices, so it's up to retailers and marketers to provide sufficient incentive for users to receive these marketing messages. As previously mentioned, businesses are already providing tangible benefits to users that permit their mobile devices to connect to beacons.

How might beacon technology help my business?
From the business' perspective, beacons provide easy metrics to determine their ROI. For example, by monitoring how often a control group visits a brick-and-mortar store, then comparing that data to a test group, it's easy to see whether exposure to a location-specific message leads to product purchases. The consumers' data can then be used to target similar consumers with the same location-specific message, increasing the likelihood of conversion.
Using beacon technology, it's also possible to segment audiences, such as specific gender with a specific income range, which helps marketers create targeted campaigns at a specific location or event. For example, a beacon at a department store might target women and serve them a message with a discount on dresses that are on sale for the next 60 minutes.
Are there security concerns with beacon technology?
Although the technology behind beacons is currently in flux as standards are put in place, the guiding principle behind them is that beacons themselves do not collect private information. Beacons provide one-way communication, so security concerns are centered around the apps that are used to connect to beacons.
As with all mobile apps, it's buyer beware. So long as the company behind the app you are wanting to download is transparent about how they use your data, and you are getting the app from a trusted and reputable source, chances are that you'll be fine. Just be sure to read all of the fine print before you click 'Install'.
Beacons are going to be around for a while.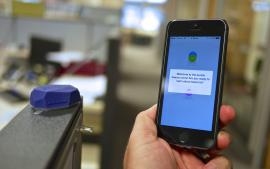 It's an exciting time for mobile marketing technology. As the appetite for beacon technology grows and retails move beyond simply providing coupons and product discounts, the mobile channels through which brands and marketers can connect to their audience on their mobile devices will grow exponentially. Considering mobile searches on Google have already surpassed desktop searches, the importance of delivering highly relevant, highly contextual marketing to consumers on mobile devices will continue to grow even faster.